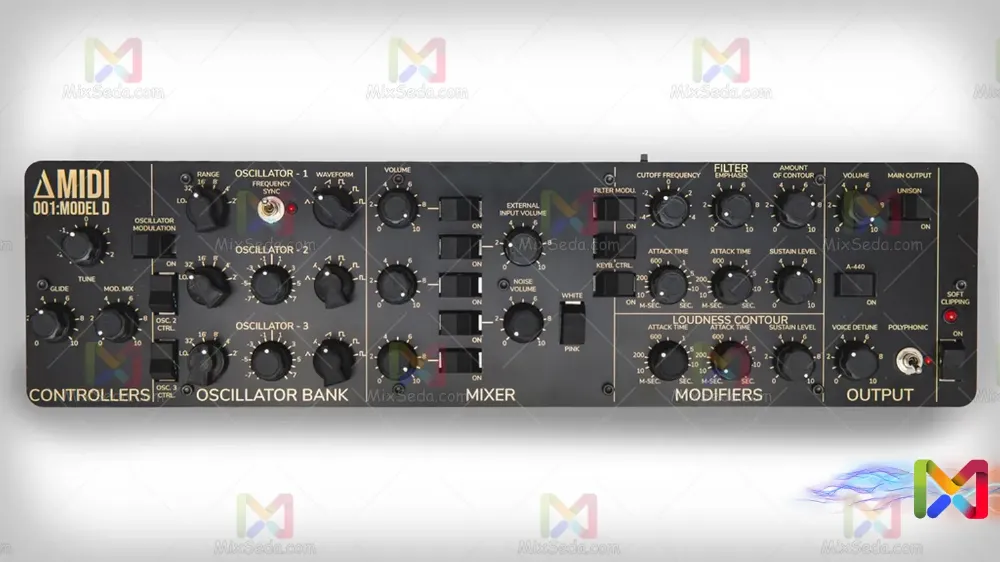 Delta-MIDI (ΔMIDI) are currently running a Kickstarter campaign to fund their first public project, the 001:Model D, a dedicated hardware MIDI controller designed to work with virtual recreations of the Minimoog Model D synthesizer.
The device offers full control over Minimoog-based virtual instruments such as the Arturia Mini V, Native Instruments Monark, UAD Minimoog and GForce MiniMonsta and others, in any DAW environment. If the project is successful, the manufacturer says that the controller will be available as open-source hardware.
The controller is currently being offered with a black faceplate and gold lettering, with the possibility of a white variant as well as a Eurorack compatible version being introduced depending on the success of the campaign. The unit is equipped with a total of 44 controllers, with the front panel featuring 21 analogue potentiometers, six six-stage knobs, 15 toggle switches, two lever switches and three LED indicators. A Sync button offers instant transfer of settings, whilst a Map button allows the alteration of MIDI channel and CC numbers for maximum compatibility and flexibility. Power is delivered via the USB bus, and the device includes a class-compliant MIDI-USB interface.
The project is live on Kickstarter now, with pledges starting at €252.