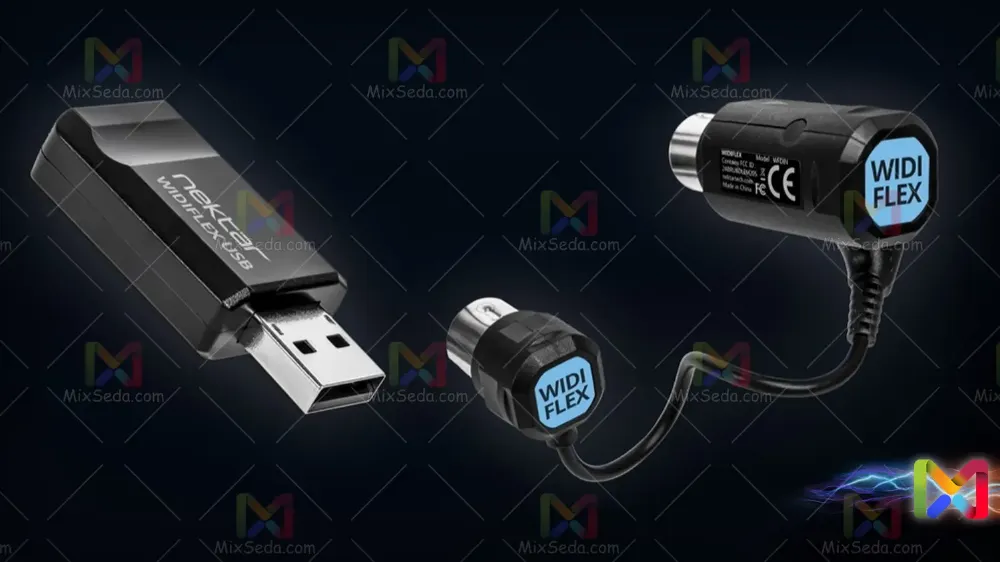 Nektar have announced the WIDIFLEX and WIDIFLEX USB, two new devices that offer wireless MIDI solutions for almost any MIDI device and operating system. Both devices utilise a BLE (Bluetooth Low Energy) connection to transmit MIDI information wirelessly, with Bluetooth 5 offering twice the range (up to 20 metres / 65 feet) and half the latency between devices (as little as 3ms) of previous Bluetooth versions.
WIDIFLEX
WIDIFLEX consists of a set of two five-pin DIN plugs that add wireless BLE MIDI to almost any MIDI device. The larger of the two plugs connects to a device's MIDI output, and contains the components that provide the wireless connectivity, whilst the smaller (detachable) plug connects to the MIDI input. External power is not required, as the WIDIFLEX draws its power from the connected equipment's MIDI output.
A second set can be connected to a separate instrument and an automatic pairing process will link the two devices, offering bi-directional wireless transmission of MIDI data. It is also possible to establish a direct Bluetooth connection with Apple computers or mobile devices running macOS or iOS. Nektar say the best solution for Windows users however, is to use a WIDIFLEX USB to provide the BLE MIDI functionality.
WIDIFLEX USB
The WIDIFLEX USB is a dongle that adds BLE MIDI to all major operating systems, and is capable of delivering better performance than integrated solutions. It is a class-compliant device, and so does not require any custom drivers to function, working with the operating system's MIDI drivers on supported platforms.
A group feature enables wireless networks of up to five active WIDI devices (one central and up to four peripheral WIDI devices over 16 channels) to be created, as well as multiple fixed pairs of directly connected devices. A free WIDI app is available for iOS and Android mobile platforms, allowing users to create, manage and recall setups.
Availability
Both devices are available now from Nektar resellers worldwide. The WIDIFLEX is priced at £41.99 including VAT / €49.99 and the WIDIFLEX USB costs £49.99 including VAT / €59.99.