See this news in another language: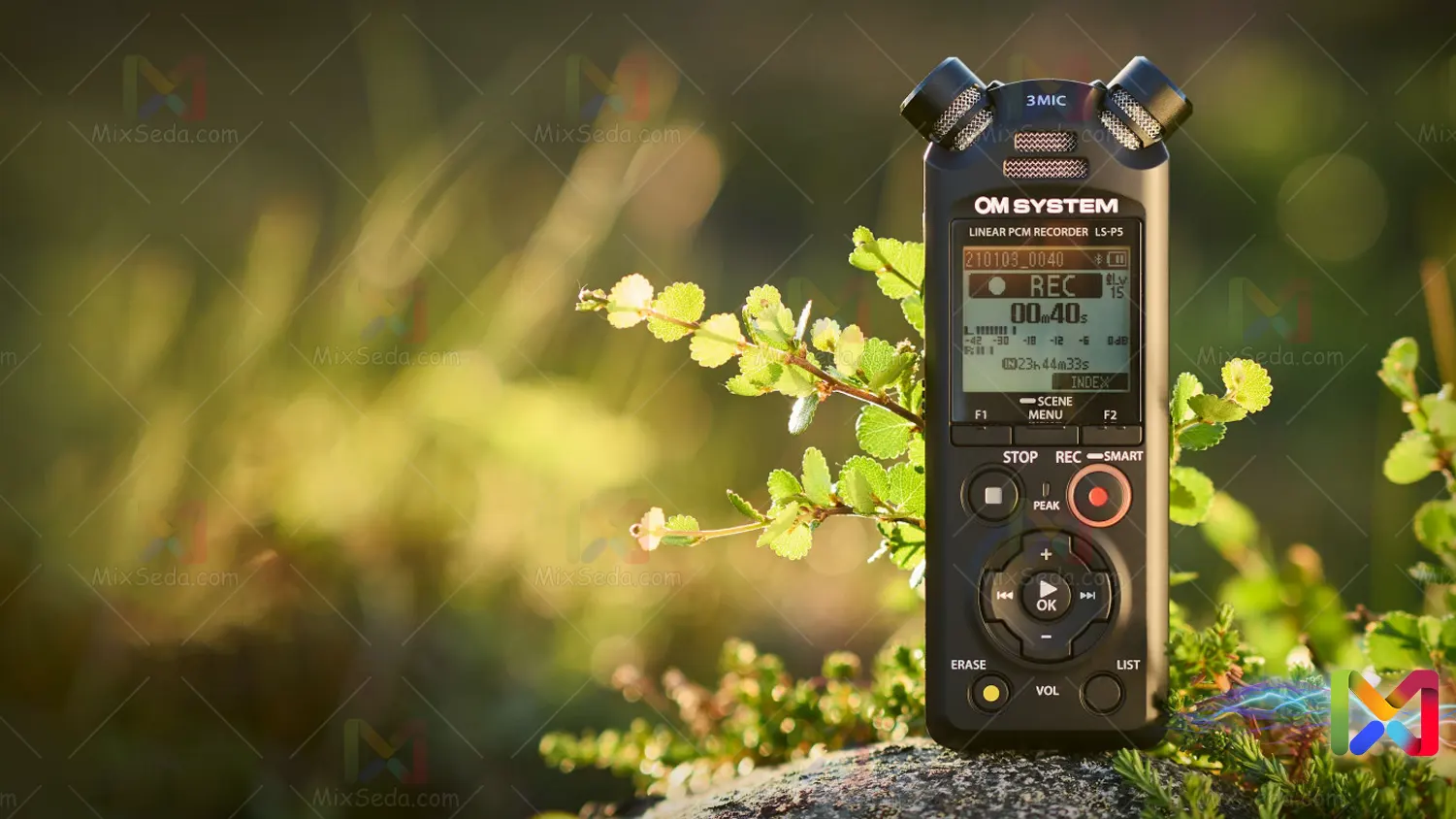 OM Digital Solutions have announced the OM SYSTEM LS-P5, a linear PCM recorder that is capable of operating at 24-bit/96kHz. The device is a new, updated version of the LS-P4 originally released under the Olympus brand, which we reviewed in 2018.
The company say that this latest model offers sound quality that is unparalleled in a small device, and is ideally suited to professional filmmakers, musicians and content creators.
Upgrades
The LS-P5 is a compact and lightweight device, weighing just 78g including the batteries!The microphone system has been replaced with a new TRESMIC II system, with three built-in directional microphones able to withstand levels of up to 125dB SPL.
A switchable microphone/line-level input accepts a signal from an external microphone or sound source, whilst an output offers connectivity for a pair of headphones or passes the captured signal on to other equipment such as a camera.
The device is capable of capturing audio in mono or stereo at 16 or 24-bit, and will record to linear PCM or FLAC files at sample rates of 44.1, 48, 88.2 or 96 kHz. It will also record to the MP3 format at bit rates of up to 320kb/s. Basic editing can also be carried out on the device itself, including file splitting, trimming and normalisation.
A newly introduced Bright Sound mode offers clearer recordings of spoken word, recording with elevated mid to high frequency levels, useful for bloggers or those capturing audio from lectures or meetings.
In addition to the Auto and Manual recording modes found on the LS-P4, a new Smart Mode allows users to press and hold the Record button whilst the device performs an "automatic sound check".
During this process the LS-P5 will set appropriate gain levels for the environment, and once configured will then begin capturing audio with a second press of the Record button.
Bluetooth & USB
Some remote control features are included courtesy of Bluetooth connectivity, with users able to remotely start and stop recording, as well as adjust levels, change filter settings or microphone directionality via a free iOS and Android-compatible smartphone app.
When using 16-bit recording modes, it is also possible to use the Bluetooth connection to wirelessly monitor the audio signal at distances of up to 10m.
A Composite USB Audio Mode is available for connection to a PC or Mac, allowing the device's microphones to be used for direct recording or to improve audio quality during conference calls.
In terms of storage, the device is equipped with 16GB of built-in memory, and also features a MicroSD XC I slot which supports cards up to 2TB. Two NiMh rechargeable AAA batteries are provided, which can be charged via USB and provide up to 37 hours of battery life.
The LS-P5 measures just 39.6 x 112.2 x 16.1 mm, and weighs 78g including batteries. A range of optional extras are available, including windshields, shock mounts, audio cables and mounting hardware for use with cameras and tripods.
Pricing & Availability
The LS-P5 will be available in mid September 2022, priced at £199 including VAT / €219.