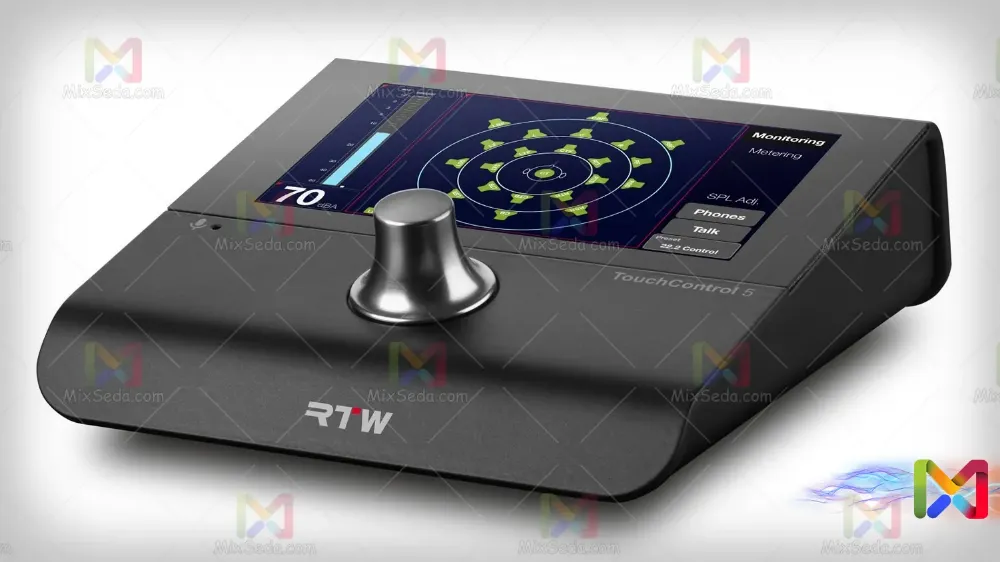 RTW have announced the TouchControl 5, an AoIP-based monitor controller that has been designed to integrate seamlessly with Dante networks and is also equipped with on-board metering functionality. Drawing on RTW's expertise in producing both monitor controllers and audio metering solutions, the TouchControl 5 aims to provide a compact, all-in-one approach to both control and metering.
Hardware
The TouchControl 5 is a compact design, with the top panel featuring just a single rotary control/push button and a five-inch touchscreen. The screen layout can be customised by the user with via browser-based application, and the unit is capable of controlling 32 channels within a Dante network, allowing it to be used for a wide range of playback formats from mono though to high channel-count immersive formats. The device supports up to 24-bit audio, and is capable of operating at sample rates up to 96kHz.
The rear panel of the device is an equally compact affair; an etherCON socket provides connectivity to the user's Dante network, and a single XLR socket provides a microphone input with 48V phantom power available. A quarter-inch jack socket offers a headphone output, and an analogue line-level output for speakers is present on a 3.5mm mini-jack connector. Both the headphone and speaker outputs have the option of monitoring a user-defined downmix.
In addition to the external microphone input, the TouchControl 5 also features a built-in microphone which can be used either as a calibration tool for setting monitoring levels, or can alternatively be assigned to talkback duties. The unit is powered by PoE (Power over Ethernet) via the etherCON connector.
Licensing
As well as the device's monitor control functionality, RTW offer a range of comprehensive metering options, including PPM metering taken from their high-end TouchMonitor meters. Different licensing options are available for the TouchControl 5, allowing the hardware to offer a variety of feature-sets each available at different price points. There are a total of four different options on offer, with each one enabling an additional set of monitoring functions and/or metering options.
Basic Features (no license required)
Four-channel Level Control (Four In, Four Out)
Simple Fader
Two x Two Channels (Stereo) or Four x One Channel (Mono) Control
Basic PPM with TP and Phase
Monitor Control License
Downmix
Source Select with A/B Compare
Speaker Select
Calibrated Monitoring using internal microphone or manual set
SPL Readout
Solo, Cut, Swap, Phase
Mono, Dim, Mute
Test Tone Generator
Enables Line Out
Enables Phones Out
Multichannel License
Enables the simultaneous use of up to 32 audio channels
Premium Metering License
PPM and TruePeak Metering
PPM Scales, TouchMonitor Style
VU
British PPM
Pricing & Availability
The TouchControl 5 will be available in the second quarter of 2023, with pricing as follows:
TouchControl 5 Basic - €999
TouchControl 5 Monitor Controller with Monitoring & Multichannel Licenses - €2,319
Monitoring License - €660
Multichannel License - €660
Premium Metering License - €440
Ethernet Power Injector - From €69