Acustica Audio have released Rust - Motor EQ, the latest addition to their line of respected Acqua plug-ins. This latest offering aims to faithfully recreate the sound of an ultra-rare, passive, seven-band fixed equaliser unit built by Motown engineers in the 1960s to improve the sound of their productions.
The seven fixed bands operate at 50Hz, 130Hz, 320Hz, 800Hz, 2kHz, 5kHz and 12.5kHz, each with a gain adjustment range of +/- 8dB. In keeping with the original hardware's design, the plug-in features a proportional Q, meaning that rather than having an adjustable control, each band's Q varies with the amount of gain applied. Small cuts or boosts have a wide Q, whilst greater cuts or boosts have an increasingly narrow Q. Rust -
Motor EQ's sound is also characterised by the interdependence between its fixed bands, again replicating the behaviour of the original device. The gain of any band is influenced by the two nearest bands, meaning whenever both of them are set at their maximum value, the gain of the central band is slightly reduced.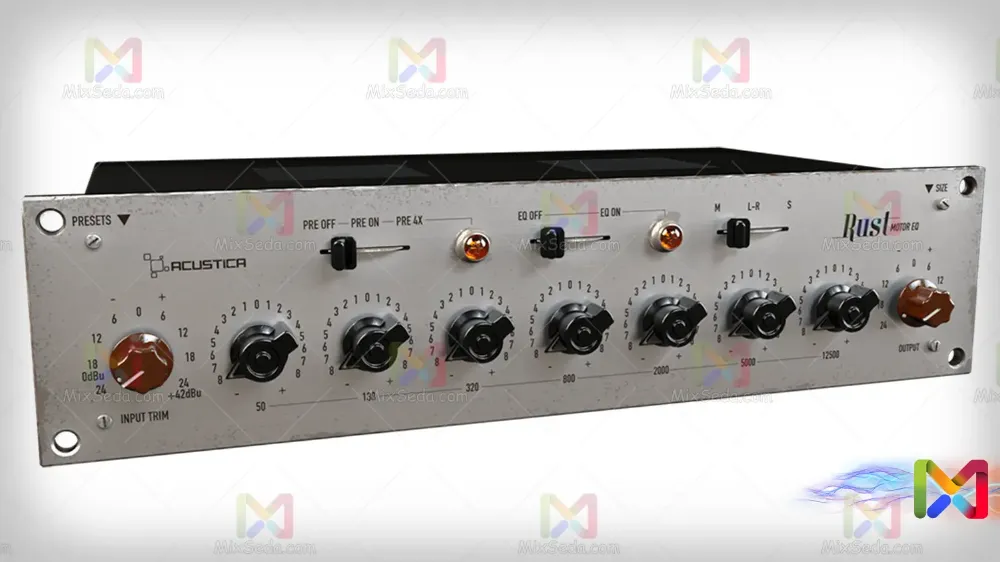 New Features For The DAW Age
In addition to the features found on the original hardware, Acustica have introduced some new functionality that offers further versatility within a modern DAW environment. As well as operating in stereo, the plug-in offers Mid and Side modes. This allows EQ processing to be applied to just the mid or sides element of a signal, although it is not possible to adjust both at once within a single instance of the plug-in.
Separate activation switches for the preamp and EQ sections of the plug-in have been included, and there is an oversampling option for the preamp section. Finally, Rust - Motor EQ features a built-in presets menu and a GUI size adjustment menu.
The plug-in is available in VST, VST3, AAX and AU formats. An alternative ZL (zero latency) version is available in addition to the standard version, which is suitable for use when tracking at the cost of extra processing resources.
Pricing & Availability
Rust - Motor EQ is available now, and is currently being offered for an introductory price of €59 until 20 September 2022, after which it will be priced at €109. More information is available on the Acustica Audio website.