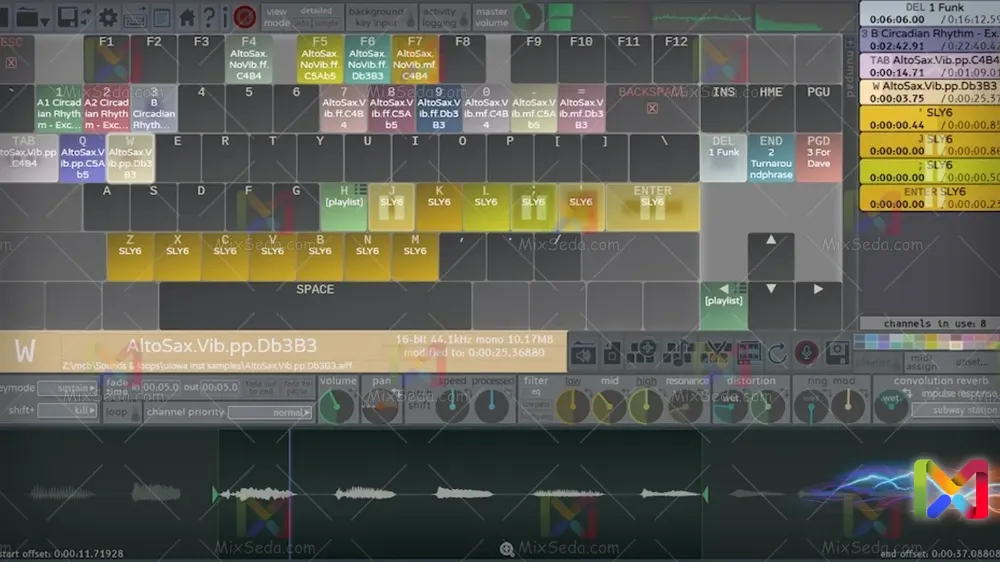 Soundplant, created by independent developer Marcel Blum, is a piece of live performance software that turns a QWERTY computer keyboard into a low latency multitrack sample player and playable musical instrument. Capable of being used as a performance, installation or presentation tool, Soundplant is able to mix tracks together, trigger sound effects or backing tracks, create loops, make beats, and much more. The software is now in its 23rd year, and this latest major update brings with it a host of new features, as well as having been completely rewritten to make the best use of modern 64-bit multicore CPUs and GPUs.
The interface has been designed to be clear and focuses on ease of use, with users able to drag and drop sounds onto an on-screen keyboard and configure the way in which they are triggered and played back. A progress bar displays the status of playing sounds, and it's even possible to trigger sounds whilst using another program with Soundplant hidden. A huge range of audio files are supported, and the software will also play back the audio from a variety of video files. The developer says that, unlike most sample players, Soundplant plays sounds entirely from RAM to avoid disk use during playback, and that compressed files are decompressed on loading rather than during playback to ensure optimum latency performance.
Once sounds have been loaded in, playback and triggering behaviour is highly configurable, with tools available for looping, overlapping, restarting, muting, pausing and fading, all of which can be controlled by secondary key presses or on a keys release. A waveform view with a full-screen mode offers maximum precision for setting start and end points for files, and playlist queueing functionality offers a wealth of options for playing sequences of sounds. Processing and effects options are also provided, with the software equipped with volume, panning, EQ, pitch low and high-pass filters, a convolution reverb, distortion and ring mod effects for each key.
New on the list of features for v50.5, is unlimited sound polyphony, allowing users to create dense soundscapes and complex virtual instruments with large numbers of sound sources. Soundplant is now also capable of recording from a microphone, or any other input source, directly onto a key whilst monitoring through the on-board effects and processing, all whilst continuing to trigger sounds, a feature which the developer says make the software useful for podcast and mixtape production or live looping applications.
Soundplant is available for Windows 7 and above (64-bit required) as well as macOS X10.11 (El Capitan) and above. As of this latest version, there is also native support for Apple's M1/M2 series processors.
Soundplant is available now as a free download, and is free for non-commercial use in unregistered mode. A registered version costs $60, and adds features including output device selection, extended file format support, sample rates up to 384kHz, recording capabilities and more. A full list of features and update notes are available on the Soundplant website.