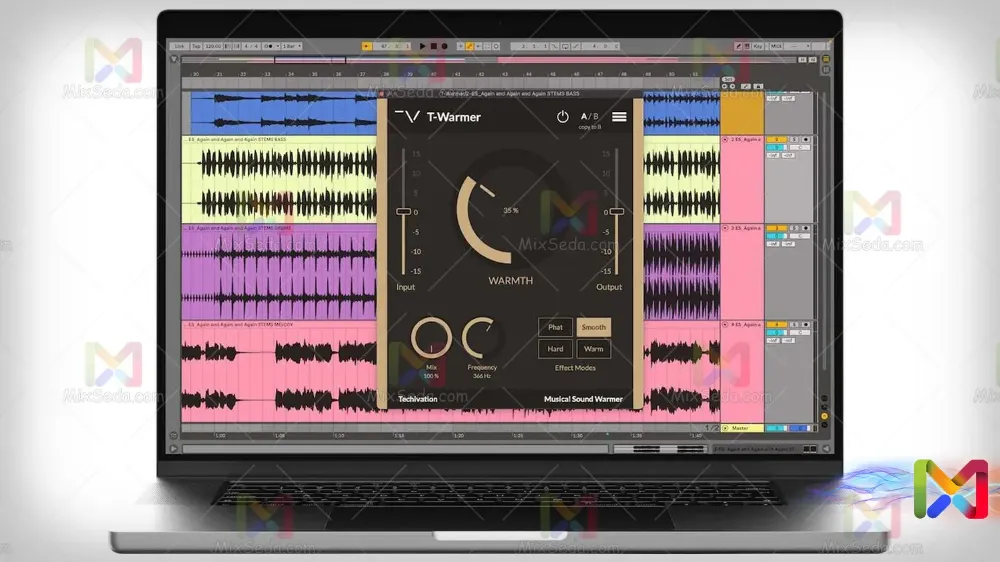 Techivation have announced the release T-Warmer, the newest addition to their growing range of processing plug-ins. Techivation say that this latest offering has been developed with the goal of creating an effective tool for adding unique musical harmonic saturation to low and mid frequencies.
T-Warmer's GUI follows the same clean and simple approach as the other plug-ins within Techivation's range. A large central Warmth knob determines how much saturation is applied, whilst Input and Output sliders on each side allow gain optimisation through the effect. A Frequency control allows users to set the centre frequency of the range that will be processed, and is continuously variable from 20 to 600 Hz. A mix control provides parallel processing capability, and four buttons labelled Phat, Smooth, Hard and Warm offer access to four different modes of saturation.
The four effects modes provide a variety of tonal options ranging from subtle saturation whilst using the Smooth mode, through to more pushed, aggressive sounding distortions offered by the Hard mode. As with the other plug-ins from Techivation, some handy features such as undo and redo functions and a built-in A/B comparison tool make an appearance.
T-Warmer is supported on Windows 7 and above, as well as macOS X 10.11 (El Capitan) and upwards. The plug-in also features native compatibility with Apple's M1 processors. In terms of formats, VST, VST3, AAX and AU versions are all available.
Available now from the Techivation website, and is currently being offered for an introductory price of $29, reduced from a full price $39. Owners of other Techivation plug-ins are eligible for a special loyalty offer of $19.