JASCO brand
Jasco is one of the best known brands in Iran. This brand, which is a manufacturing company in China, offers high quality and cheaper products on the market than other brands, which is why it has gained a lot of popularity in recent years.
Usually, the price of Jasco products is cheaper than other brands.Also, some products of this brand have a special quality in terms of quality, which has made this brand more popular among users.
Jasco products include amplifiers, power mixers, microphones, passive and active bands (speaker types). Most people know more about microphones of this brand.
Due to the sound quality of Jasco microphones, these microphones have their own fans. Of course, when a brand becomes popular with users, its fake samples also increase.
In the case of this brand, many non-original samples have been produced under the name of this company, and many customers buy non-original samples of this product because they don't know the difference between original and fake (original design) samples of this brand.
The Jasco company has a lot of diversity in its products and compared to some brands that only operate in a specific area, the Jasco brand has offered products in many branches of audio equipment.
As for the name of this company, some users know this brand as Jas, which is actually the same brand as Jasco.
Jasco products
Jasco products include the following:
Wired microphone
Wireless microphones
Ceiling speakers
Active bands
Passive bands
Power mixer
amplifier
Audio rack
As mentioned above, Jasco products are much cheaper and more affordable than other brands like Dynacord or EV. Of course, American brands in the audio equipment industry have higher quality than Chinese brands.
You can purchase Jasco products through mixseda.com or send us a message for advice.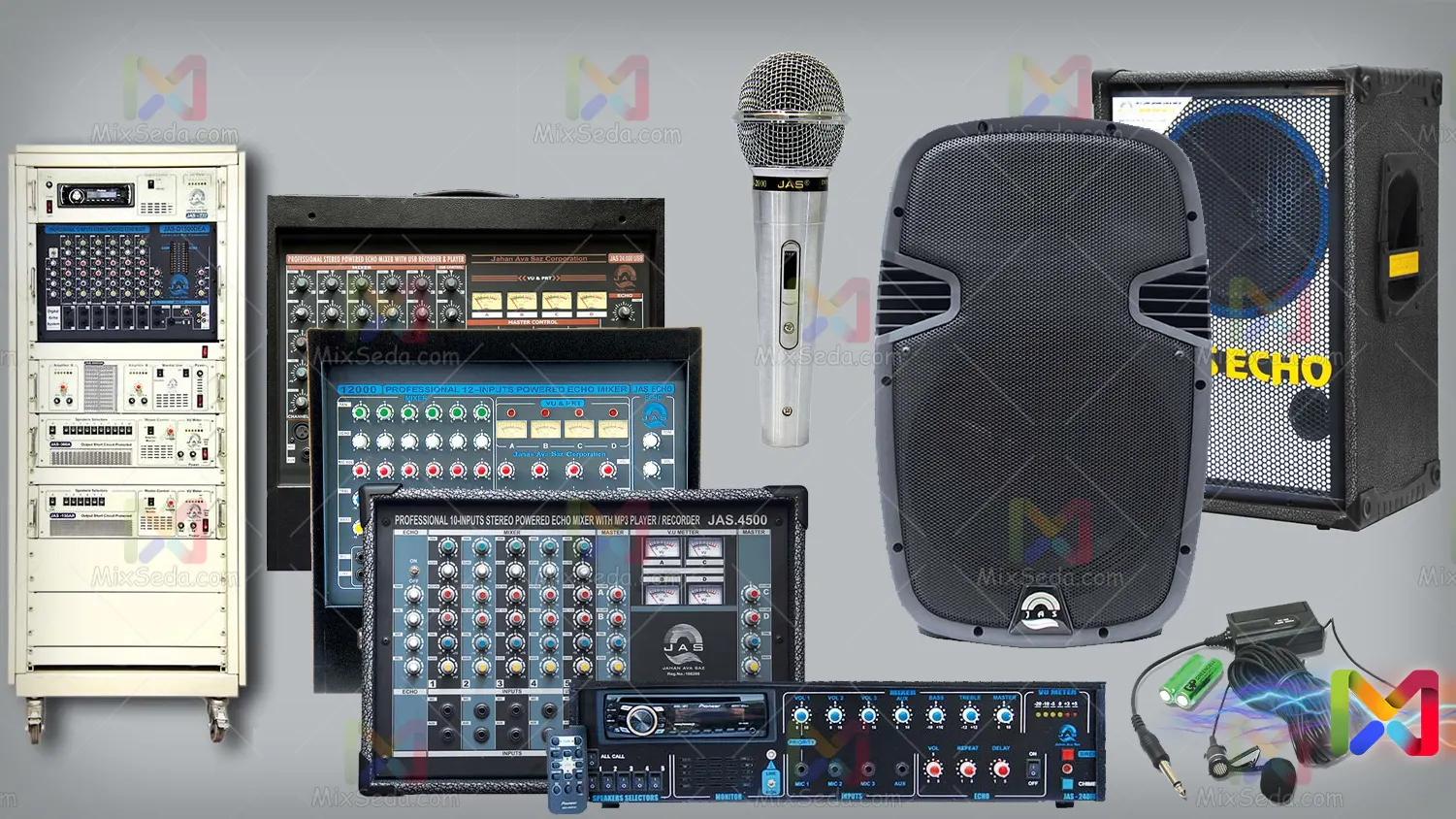 Jasco microphones
The quality of Jasco microphones is much higher than the price you pay for the purchase of these microphones. For this reason these microphones have many fans in Iran, and many singers and especially many madahs use this microphone.
One of the best-selling microphones of this brand is the Jasco-2000 model microphone, which can easily be said to be one of the reasons for the popularity of the Jasco brand, the production of this product.
The Jasco 2000 microphone is the best microphone in its price range due to its good sound quality, low price and high quality. It is safe to say that a microphone of this quality was not manufactured and marketed in such a price range.
In addition to making wired microphones, Jasco also makes wireless microphones, which, of course, are of lower quality than other well-known brands, but this brand has a lower price.
Jasco ceiling speakers
After the Jasco microphones, this brand's ceiling speakers have more fans. High quality and reasonable price have made this brand popular among users. Additionally, many contractors use Jasco ceiling speakers to complement their projects.
In general, the most important factor that made the Jasco brand popular is the low price along with the good quality. In the audio equipment market, there are many brands that are superior in quality to Jasco, but lack the power to compete with the cost of Jasco products.
So, if you are looking for equipment with a good fit and a low price, the Jasco brand is one of the best brands you can buy.
Jasco company speakers
Jasco company's speakers are priced lower than other bands on the market, and these bands are suitable for small projects such as offices, residential places, schools and public places, but are not recommended for professional work.
These speakers do not have adequate sound separation and using them in a group can cause poor sound quality. Additionally, some of these bands annoy the listener's ears due to the lack of adequate equalization.
Jasco mixers
It can almost be said that Jasco power mixers are one of the cheapest power mixers available on the market, based on their capabilities. However, this mixer model is designed in analog and only the effector part of some of these mixers is digital.
I would like to briefly explain the power mixers of this brand, these power mixers are not designed and produced for professional work and are generally used for general purposes.
One of the best products of the Jasco company in the field of power mixers is Jasco-1200, the output power of this mixer is rated at 1200 watts and has 12 microphone inputs.
Additionally, this mixer supports 99 ready-made audio effects that are digitally applied to audio channels. The presence of a USB port and the possibility of Bluetooth are also among the other features of this power mixer, and it can be safely said that there is no power mixer in this price range.
Jasco amplifiers
Jasco amps are very affordable and some of them have the ability to mix sound in addition to the amp they have. Therefore, sometimes these devices are also used for sound transmission.
In offices and schools where you don't need professional mixes, these amps can be one of the best options considering their low price. Additionally, some of these amplifiers have capabilities such as the ability to create sound effects on sound.
The existence of such features on an amplifier makes you superfluous for audio mixers in small projects. Other features of these Jasco amps include the following:
Setting the equalizer
Bluetooth connection
Remote controller
Predefined melodies
USB input for playing audio files
The presence of digital FM radio